Ad blocker interference detected!
Wikia is a free-to-use site that makes money from advertising. We have a modified experience for viewers using ad blockers

Wikia is not accessible if you've made further modifications. Remove the custom ad blocker rule(s) and the page will load as expected.
Welcome to the Tactics Ogre: Let Us Cling Together Wiki
Many pages are under construction
Remember, we always need help with editing and putting more accurate information on pages. Please leave a message on Balthierfan's talk page to let us know about any updates we need to put on this wiki :)
If you cant find anything you're looking for under the above topics than try searching it, maybe it's on here or we are still working on it
TV Tropes page
for Massive Spoilers and boredom relief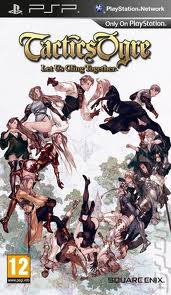 A remake of the PlayStation Tactical RPG
Edit
Tactics Ogre (made in 1995) predates Final Fantasy Tactics (made in 1997), both available on the original PlayStation. Tactics Ogre - Let Us Cling Together was originally released in Japan on the Super Nintendo.
Getting info from GameFAQS, the colloborative Spreadsheet on google, and some of our own knowledge
Will put acknowledgements below once I can find some names will add more as I dig deeper.
Google translated Japanese Tactics Ogre Wiki
Google Japanese/English Spreadsheet
Gamefaqs General Infomation Topic By Were Tiger
Gamefaqs Skills FAQ by Coineineagh
Sprite Ripping by XM16E and Balthierfan
Chapter Timelines put together by Vaderence
All sprites, Logos, Characters, maps and other images are copyright to their respective owners.
Latest activity
Edit